Protecting your child is a parent's number one job, especially during the pandemic.
In this nearly two years of fighting against the new crown epidemic, we are facing the most contagious variant of COVID so far-the Delta variant. It is twice as infectious as other variants, and the viral load of an infected person can be as high as 1,000 times. This variation of Delta can spread from one person to another in a few seconds!
Although most children return to school for face-to-face learning, people who have not been vaccinated are still at a higher risk of infection with the Delta variant. So children are probably the most vulnerable group to contract this virus, given that less than half of children 12 years and older are vaccinated, and children under 12 are still not eligible for the vaccine, so more and more children are infected COVID and eventually hospitalized. Children currently account for 25% of new COVID-19 cases, even though they only make up 18% of the population. Most importantly, in the last two weeks of September, the child infection rate rose by 11%!
Should kids wear kn95 masks?
For most of our children, there is no longer distance learning, which means that many of us are sending our children to school in person again without the added benefit of the vaccine. With Delta variants everywhere, we want to provide stronger protection for our children-cloth masks are not possible for many of us. The problem is that there seems to be a lack of legal KN95 masks suitable for children.
KN95 masks in China are equivalent to N95 masks in the United States, and can provide 95% protection against particulates. Shapiro said that after seeing a surge in interest in adult-sized KN95 masks this year, some manufacturers are now offering children a choice of sizes, colors and patterns. But should they wear it? Adam Ratner (MD), director of the Department of Pediatric Infectious Diseases, Hasenfield Children's Hospital, New York University Langone Health Hospital, said: " There is no reason for children not to wear KN95 masks."
"To me, it's been a no brainer since day one. We have this great technology that we've been developing for 40 years. We should use it," said Aaron Collins, an amateur mask tester and a parent whose 5-year-old son wears KN95 masks every day.
T

ie-dye kn95 masks for kids.
We are not sure when tie-dye became popular, but at some point in the past few years, this ingenious pattern changed from a Woodstock-style joke to a modern neutral. Today's dye has replaced its once loose and fashionable connotation, less, impressionist, and even elegant reputation.so why not incorporate this trend into your mask? Below, we have compiled a cost-effective children's tie-dye KN95 mask for everyone.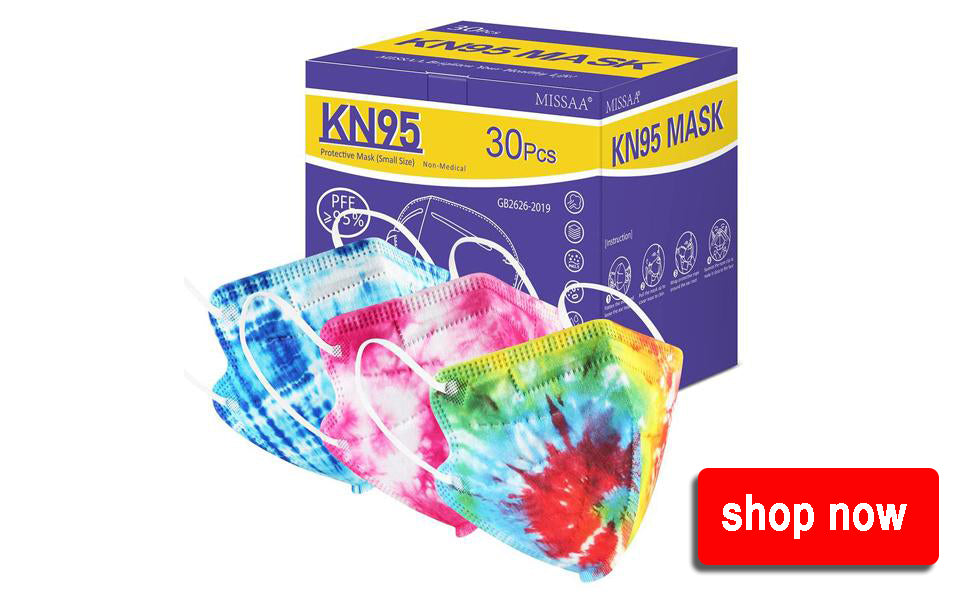 C

omfortable,recyclable,tie-dye kn95 face masks for kids.
Hotodeal's children's tie-dye mask is retain the reassuring 5-layers design that has never been changed. The outermost non-woven fabric can block most dust and droplets, the middle layer of meltblown fabric and hot air cotton can filter more than 95% of fine particles, and the innermost non-woven fabric is soft and skin-friendly, giving you can bring a comfortable wearing experience. This children's tie-dye KN95 mask uses a 3D design to better fit the child's face. The adjustable nose clip and the attached sponge can achieve anti-skid and stress reduction effects. In addition, we have also increased the width of the elastic ear loop to reduce Pressure, the reinforced seam at the ear loop interface achieves the effect of being durable and not easy to break.
According to the "Brave" report, they allegedly filtered and captured 95% of the 0.3 micron particles in the air. A woman mentioned in an interview that while wearing this mask to show the trend, it also allows me to Feel safer when sending children back to the classroom.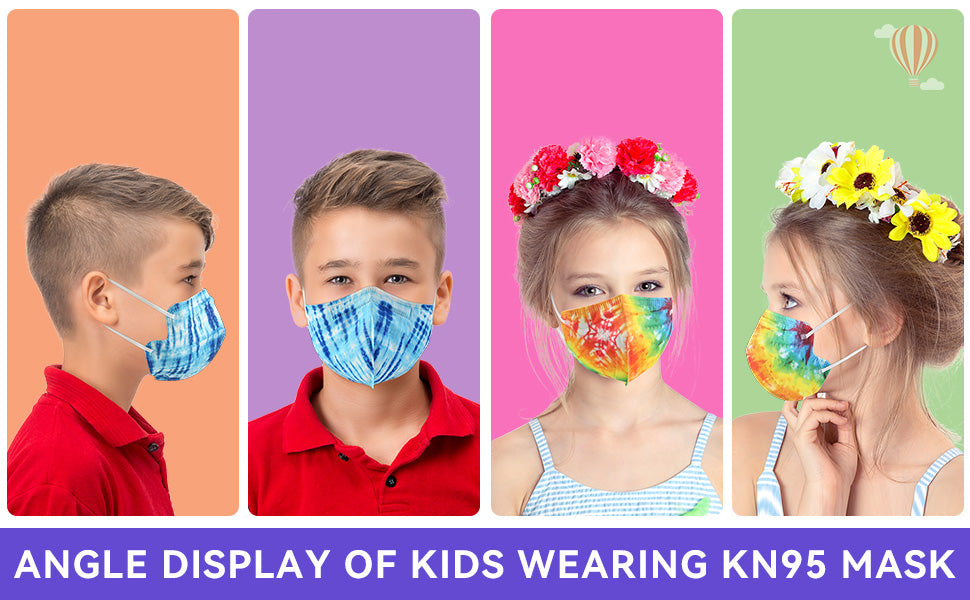 Only $ 21.99 get total 30 pcs children KN95 face mask in the box! Don't miss out(click picture to purchase)! Children always have the spirit of exploration, the vibrant and stylish color options make boys and girls are willing to wear masks and exciting to pick a different color everyday. Moreover, multi-color can match different style clothes, bring a good mood to your child.
The best kn95 for children.
Whether the children are returning to the classroom, going to the grocery store with their parents, or on vacation, it is important to ensure their safety before the pandemic is truly over. Every child is the dear of the parents. The children's tie-dye KN95 masks have been tested. Parents, teachers and professionals can rest assured that the thinking behind these masks is considering children-not only as doctors, but also as parents.