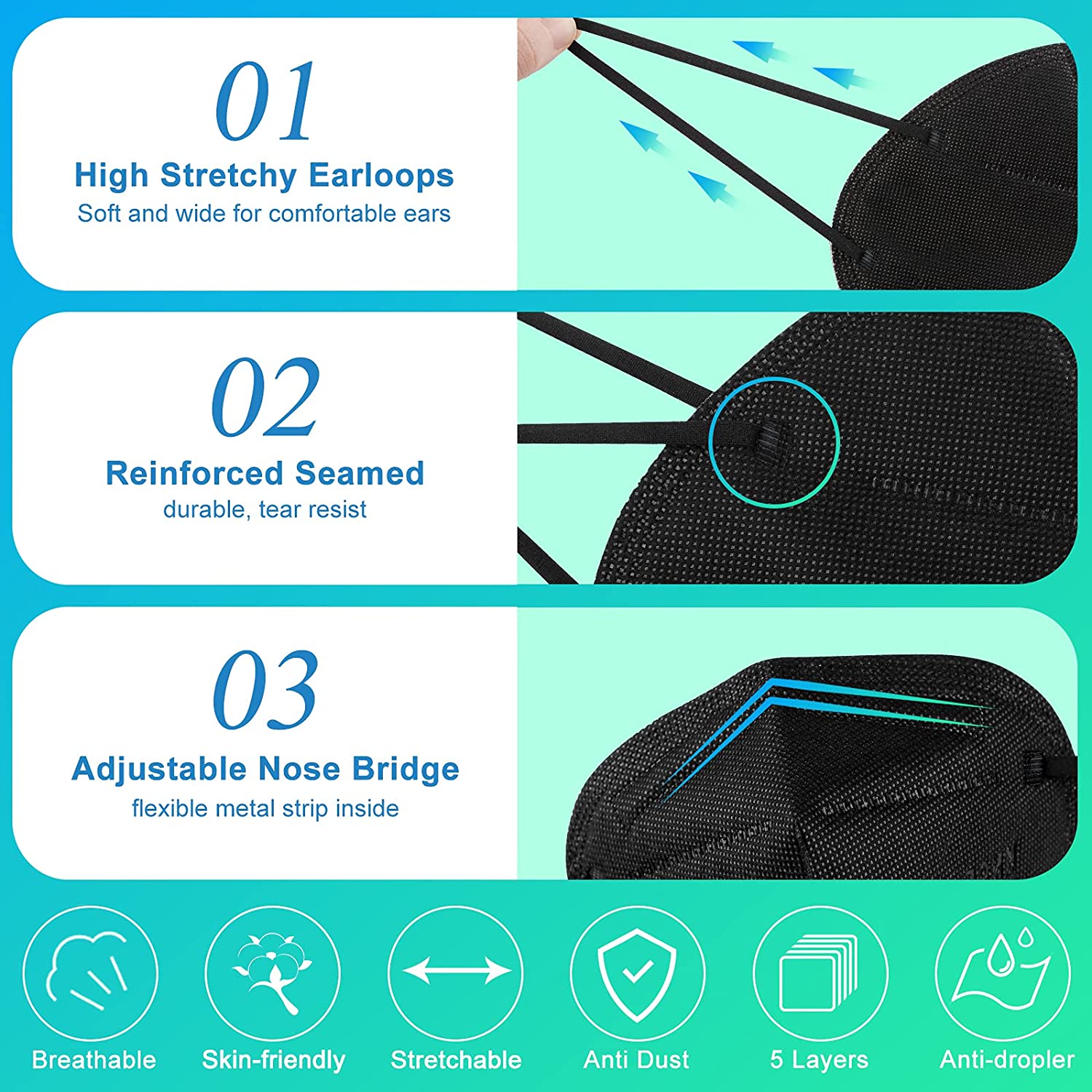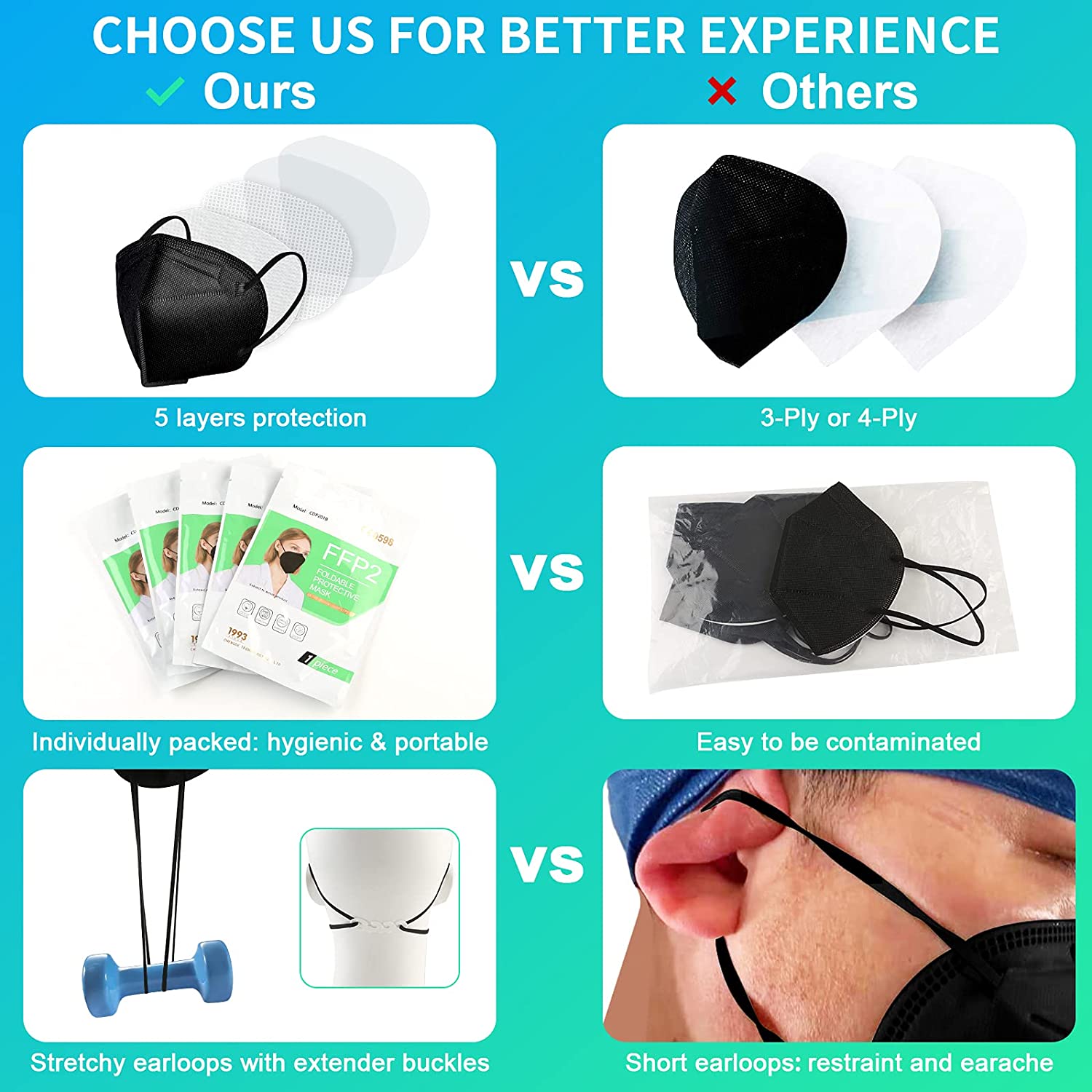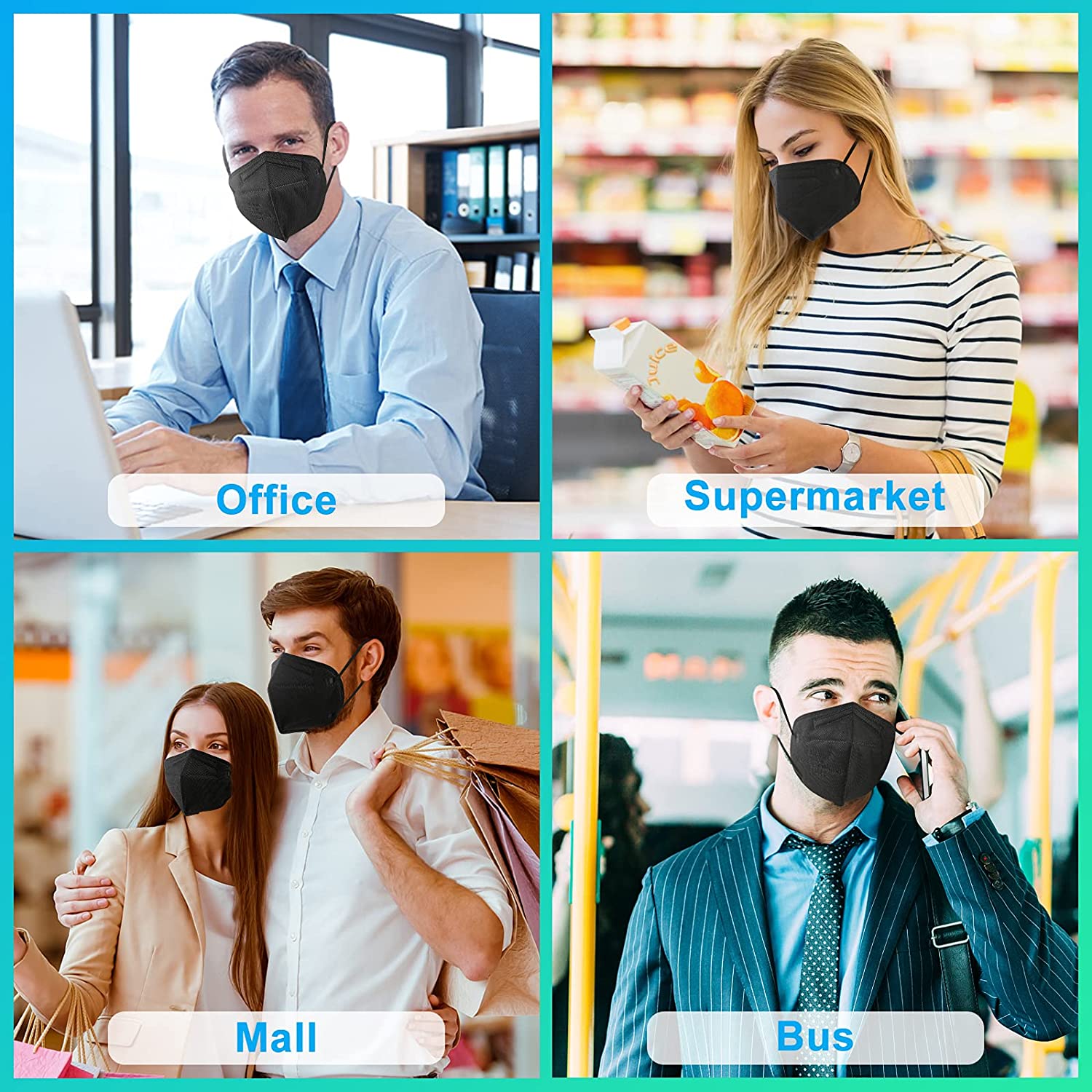 FFP2 Mask 20Pcs, 5 Layer Cup Dust Safety Masks, Disposable Particulate Respirator Against PM2.5, Fire Smoke for Men, Women, EN 149:2001+A1:2009 FFP2 NR Black
---
PROFESSIONAL and RELIABLE: Our FFP2 masks are tested against EN 149:2001+A1:2009 FFP2 NR standard. The FFP2 black face masks have the corresponding CE Certification CE 0598. Offering you and your family better safety protection.
5-LAYER PROTECTION: Our FFP2 face masks are constructed with 2 layers of non-woven cloth, 2 layers of melt-blown fabric, and 1 layer of skin-friendly Non-woven fabric, which can block more than 94% particles. The inner skin-friendly layer absorbs the moisture from the breath. 5-ply FFP2 mask is superior to the disposable 3-Ply and 4-Ply masks in the market.
COMFORTABLE and BREATHABLE: 3D lightweight face mask with sufficient breathing space, the respirator does not cling to your nose and mouth but provides you with a good seal around the edge. You can breathe and talk properly, and the masks won't destroy your makeup. With a high stretchy ear loop and a length adjustment buckle, you can find a comfortable fit. The part of the nose bridge has a flexible metal clip inside and you can mode it to the shape of your face perfectly.
INDIVIDUALLY PACKED and EASY-TO-GO: 20 pack FFP2 masks in a design box and each piece is individual packaging to prevent secondary pollution. Compared to others, our mask is more thoughtful to double ensure the Hygienic and your safety. Saving space, easy to store, and is convenient for you to carry around.
WIDELY USE: Keep your mouth, nose and chin covered and protected when you go to crowded public places and enclosed public spaces. These FFP2 protective masks are good for transport drivers, taxi drivers, public service personnel, armed police, traffic police, security personnel, media reporters, couriers, etc because they have daily contact with a large number of people.
Note:

Keep the face mask clean before use. Do not touch the rear side of the face mask.
Do not wash the face mask with water. Water will destroy the filtering ability and protective nature of the mask.
Do not steam the face mask or put it in the microwave.
Keep the face mask away from vapor, oils, chemicals, paints, liquid, acid, and alkaline objects.
Make sure to discard the face mask when it becomes visibly dirty or breathing resistance increases remarkably.